The Ultimate Wall Drug Store Gift Giving Guide
– By Wall Drug Store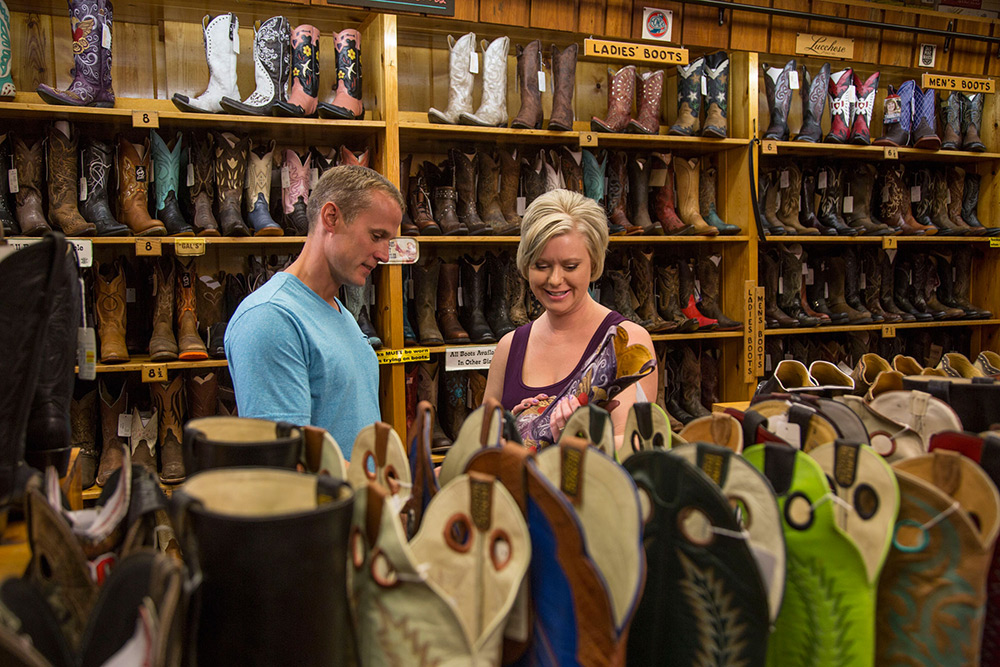 With the holiday season just around the corner, it's high time that you get ahead on your seasonal shopping for Christmas presents, Hanukkah gifts, and more! While you could easily shop on Amazon or a local box-chain store, there's something so meaningful about sharing sentimental gifts with the ones that you love. Whether you're shopping for a friend or loved one, we can't think of a better place to find a memorable gift than Wall Drug Store! If you're in our neck of the woods, we implore you to stop by and check out our unending assortments of décor, apparel, apothecary products, toys, and more. Admiring Wall Drug Store from afar? Don't worry – our online store brings Wall Drug Store to your front door no matter where you are!
With such a wide assortment of products to browse and treasures to be found, you're certain to find the right gift for anybody at Wall Drug. To help ensure you stay off Santa's naughty list this year, we've brought all of our favorite products together to provide you with the ultimate Wall Drug Store gift giving guide! Check it out:
For Jewelry Lovers:
Wall Drug Store offers a wide variety of stunning, handmade Black Hills Gold jewelry for the special someone in your life. Whether it's a gift for your significant other, mother, grandmother, or friend, the wide variety of Black Hills Gold products offered at Wall Drug Store has something for everyone! A few of our favorites include these simple, stunning gold leaf earrings. Made from gold mined exclusively in the Black Hills and 100% recycled silver, these earrings are the perfect gift for the accessory lover in your life.


Looking for something a little more romantic? This Black Hills Gold Garnet Heart Pendant features a genuine heart-shaped garnet encased in 12k rose and green gold leaves.



For Cooking Connoisseurs:
In addition to our wide variety of homemade fudge, taffy, and delicious sweets, Wall Drug also sells our signature Wall Drug cookbooks for the foodies in your life. Compiling recipes from friends, relatives, and Wall Drug employees, these cookbooks feature an assortment of delicious recipes for you and your family to enjoy. With three different volumes containing old classics and new favorites, you'll never run out of ideas for dinner, desserts, and more! If you have a chef in your family, they are sure to love this gift in their stocking! Check out Volume 1. Check out Volume 2. Check out Volume 3!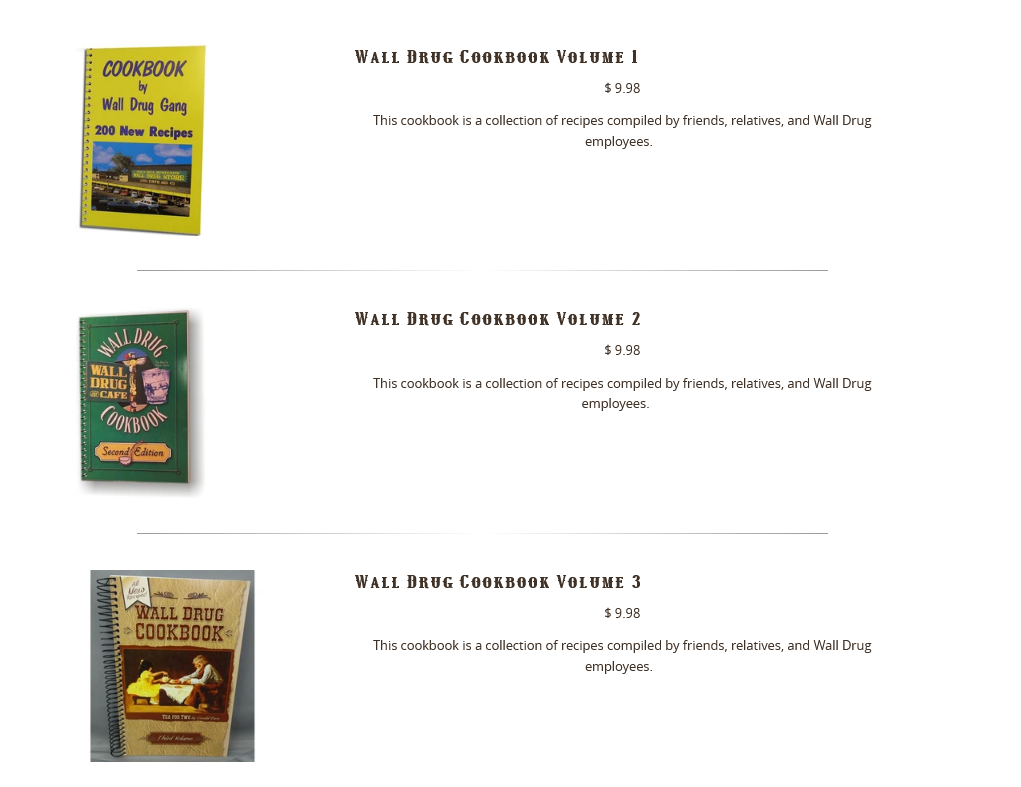 For the Travel Enthusiast:
For the adventurer in your life, Wall Drug Store offers a wide array of collectibles from all 50 states, and these shot glasses are the perfect gift for someone who loves to travel! Each state shot glass features its own unique design, so collecting all 50 of them all makes a beautiful display of colors, animals, buildings, scenery, and more.
For the Family Goofball:
Wall Drug Store has the perfect assortment of gifts for your family's resident goofball. One of our personal favorites and a great way to remember your trip to Wall Drug is this "official" Jackalope Hunting Permit. With the full story of the Jackalope and signed by Theodore Hustead himself, this license is perfect to display and trick your friends.


Another great gift for your favorite goof is our "Dr. Feelgood's Amazing Wall Drug Tonic" koozie. Promising to cure whatever ails you, this koozie is the perfect way to keep your drink cool and put a smile on people's faces.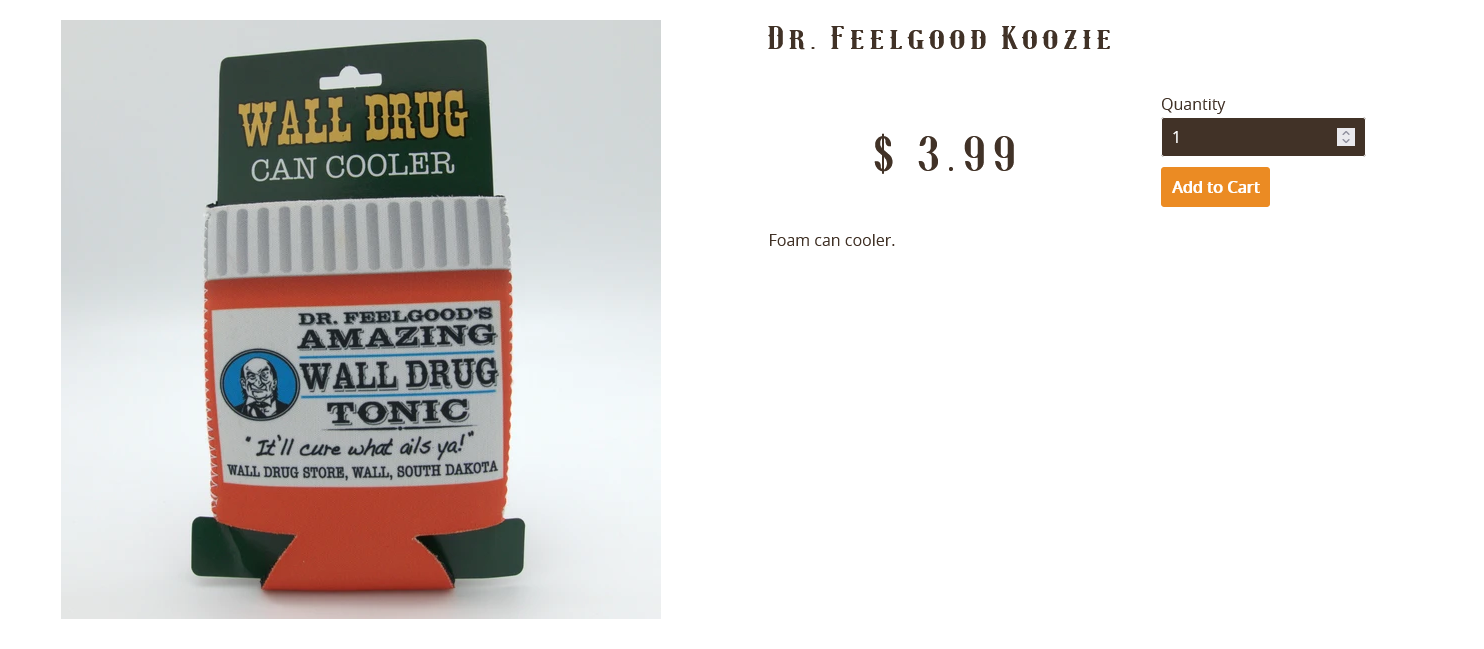 Get ahead on your Christmas shopping to avoid the inevitable holiday rush to the stores and check out Wall Drug's online store. With such a wide assortment of home décor, toys, apparel, souvenirs, and more, you're certain to find the perfect gift for everyone on your list.
So - stop by and see us in person or visit us online to find the greatest gifts for the people you love most. Merry Christmas from the Wall Drug family!
---
Last Modified: