The City of Wall, South Dakota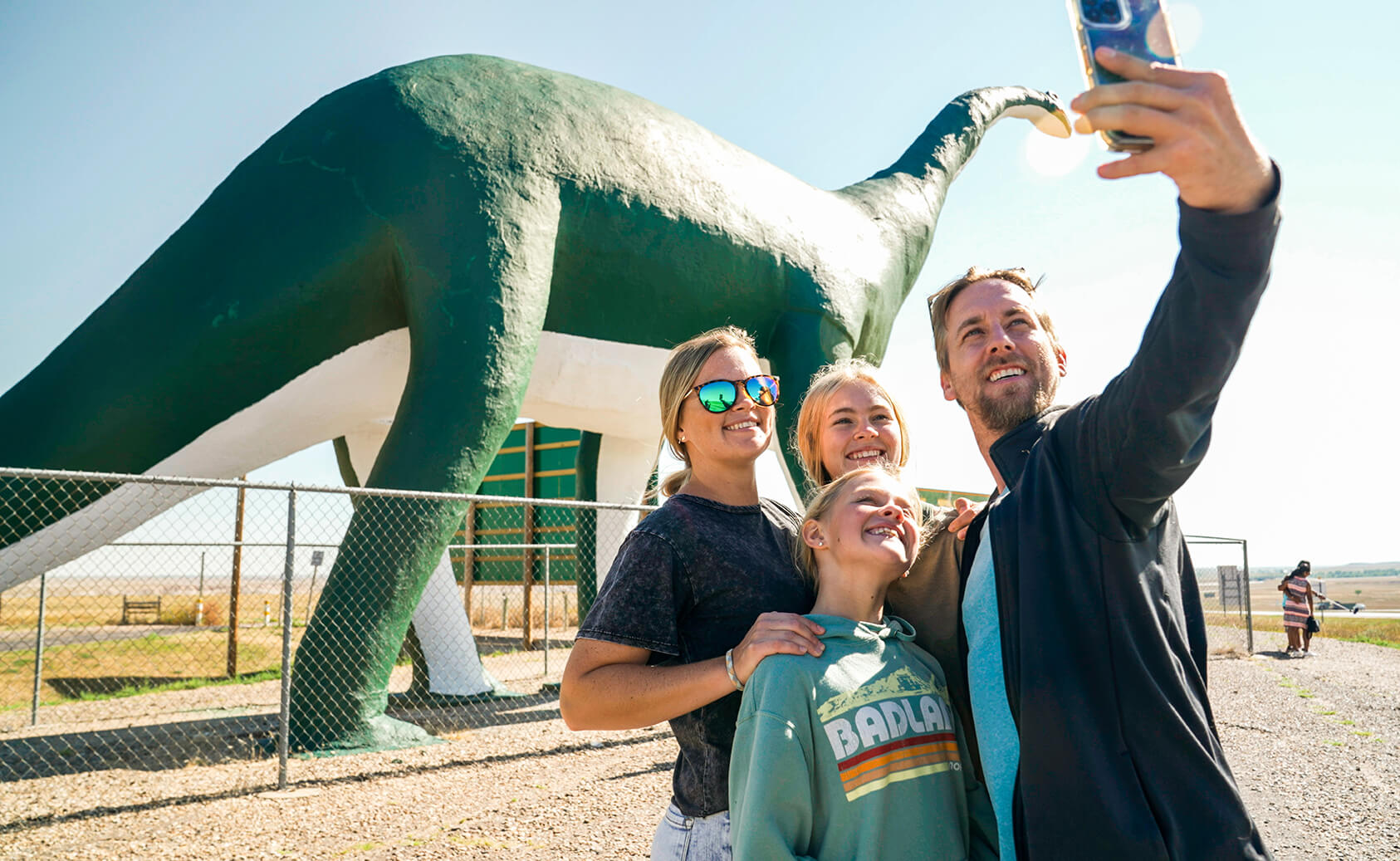 It's hard to miss the 80-foot dinosaur as you close upon Wall Drug.
Located near the northern "wall" of the South Dakota Badlands, Wall, South Dakota is a small American town with a huge personality. Once known as the "geographical center of nowhere," Wall has become a hub for tourism and is often referred to as the "Window to the West" or the "Gateway to the Badlands."
Established as a railroad town for the Chicago/Northwestern Railroad system in 1907, Wall, South Dakota was barely more than a pit stop. By the 1930s, Wall housed a whopping 300 citizens, a hospital, hardware store, "community hut" and two banks. Today, the population has nearly tripled in size to 876 residents.
Wall's growth can be largely attributed to the building of the first road through what we know today as the Badlands National Park, located a mere 8 miles south of town, and the emergence of the town's claim to fame, Wall Drug Store.
Reputed for its small-town charm and welcoming community atmosphere, Wall, South Dakota hosts millions of travelers every summer, with as many as 20,000 visitors a day during the peak tourist season. The town's population grows exponentially during the summer months, with a diverse group of residents from around the world occupying the area and transforming Wall from a quiet, close-knit community to a buzzing tourist hot spot.
South Dakota's most popular tourist sites in the Black Hills, including Mount Rushmore, Crazy Horse Monument, historic Downtown Deadwood, and the Badlands National Park, are a short commute outside the city of Wall. The surrounding area offers an array of entertainment, from the Black Hills Playhouse to local wineries and tasting rooms, as well as numerous hiking and biking trails.
Amenities of the City of Wall
Internet access provided in the bank and library
Wall celebration in July
Parade, dances, rodeo & various activities
Wall Regional Medical Clinic
Four churches:

First Lutheran Church
Patrick's Catholic Church
Wall Evangelical Free Bible Church
Wall United Methodist Church

Welcoming residents that will make you feel right at home
Great things to do in the City of Wall
Bike Path
City Park
Playground
Tennis Courts
City Swimming Pool
Eagle Powerhouse
Cardio/Fitness Room
Gymnasium
Weight Room
Golf Course