Wall Drug Store : Celebrating 90 Years
– By Wall Drug Store
We're celebrating 90 years of business here at Wall Drug Store in 2021! Come join us as we take a look back on the last 90 years in the inaugural installment of The Backyard Bulletin!

How did a 24x60 drugstore in 1931 located in "the geographical center of nowhere" grow to a world-famous, 76,000 sq. ft. roadside attraction? A simple idea took root: offering free ice water to road weary travelers. But how did this all come about?
--

In December 1931, Ted and Dorothy Hustead used Ted's $3,000 inheritance from his father to purchase the only drugstore in the small, desolate town of Wall on the edge of the South Dakota Badlands. Not only was Wall in the middle of nowhere, but many people thought that it was as Godforsaken as you could get. To compound the challenges, the Great Depression was taking hold across the United States.
But Wall had many things the Husteads were looking for. They wanted a small town with a good school, a Catholic church so they could attend mass every day, and a doctor to prescribe prescriptions that Ted could fill. Wall had all three. In fact, when they talked to the priest, doctor, and banker, they all told the Husteads that Wall was a good place with good people and that they wanted them to come live there. Led by two of Dorothy's aunts, who were Dominican nuns, they asked for God's guidance and felt it was God's will for them to go to Wall.



Ted Hustead standing in front of the original Wall Drug Store.

The Husteads decided to give the store a five-year trial period. Dorothy was optimistic they could make the store work. She believed, "any person with patience, faith, humility, and courage can, by hard work and enthusiasm, following a plan, succeed. Success comes of readiness when opportunity knocks." They never planned to build the worlds' best-known drugstore. Their plan was simply to serve the Wall-area people well enough that they could survive and meet their next mortgage payment.
They determinedly sought out ways to bring in business. Ted read all the veterinary booklets and magazines he could get his hands on and Dorothy wrote thousands of penny postcards to the farm and ranch trade to advertise their store. Ted helped promote dances in town because the fellas would bring their girls over for a coke or an ice cream cone. They would go out to the Sunday ball games with their popcorn machine and set up booths to sell ice cream and lemonade at the 4th of July rodeo. Wall's birthday celebration on July 10th was also a good day for them.
These good days helped pay the mortgage, but by 1936, the business had not grown. By now they had two children to raise. What were they going to do? Their five-year trial period was almost over. Then, on a hot July day, Dorothy had an idea when she heard the rumble of cars go past Wall on Route 16A. She told Ted, "I think I finally saw how we can get all those travelers to come to our store."
"And how's that?" asked Ted.
"Well, now what is it that those travelers really want after driving across that hot prairie? They're thirsty. They want water. Ice cold water! Now, we've got plenty of ice and water. Why don't we put up signs on the highway telling people to come here for free ice water? Listen, I even made up a few lines for the signs: Get a soda…Get a beer…Turn next corner… Just as near…To Highway 16 & 14… Free Ice Water… Wall Drug."
During the next week, Ted and a local high school boy put together some signs modeled after the Burma Shave highway signs. Each phrase of Dorothy's little poem went onto a 12x36 inch board that were spaced out so people could read them as they drove. Ted "felt a little silly" putting up signs, but by the time he got back to the store, people had already begun stopping for free ice water.
For hours people came streaming in, all hot and frazzled. Ted and Dorothy poured gallons of ice water, made ice cream cones, and gave highway directions. When the travelers started on their way again, refreshed and ready for new adventures, they gave the Husteads hearty thanks.
"Well Ted," Dorothy said, "I guess the ice water signs worked."
As far as Dorothy's thinking went, those signs were enough, but Ted went sign crazy. If just a few signs could have such an effect, what would ten or twenty do? Before the summer was over, they had a third and fourth series of signs out fifteen to twenty miles from Wall. Soon after the sign campaign got rolling good, Ted found this bare signboard out in the desert. He couldn't bear to see all that valuable space go to waste, and he just happened to have paint and a brush in the car. He made the best of his opportunity while an irate Dorothy snapped the picture, saying, "Oh, come ON, Ted!"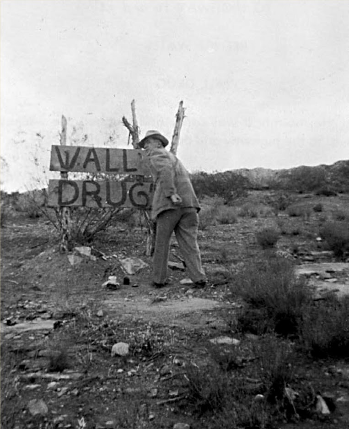 Ted painting the abandoned sign

Customers continued to roll in, and by the next summer Ted and Dorothy had to hire eight local girls to help man the store.



The first summer crew in 1937.

By 1942, the little 24x60 store was getting quite cramped, so Ted bought an unused building from Wasta, SD that was 24x80. They parked the building across the street, fixed it up, and wondered what they would do with all the room. However, this store was just as tight as the old one by the end of WWII.


Ted Hustead in front of the new store in the 1940's.



nterior of the new store in 1942. Today, this part of the building houses our Drug Counter.
In 1951, Ted and Dorothy's oldest son, Bill, came back to work at the family store. He'd graduated with his pharmacy degree in 1950 from South Dakota State University, and he was full of ideas to expand the store. To start, he roofed the lot between the store and the theater next door. Over the next few years, he bought the theater and a few buildings on the other side in case they ever had to expand in that direction.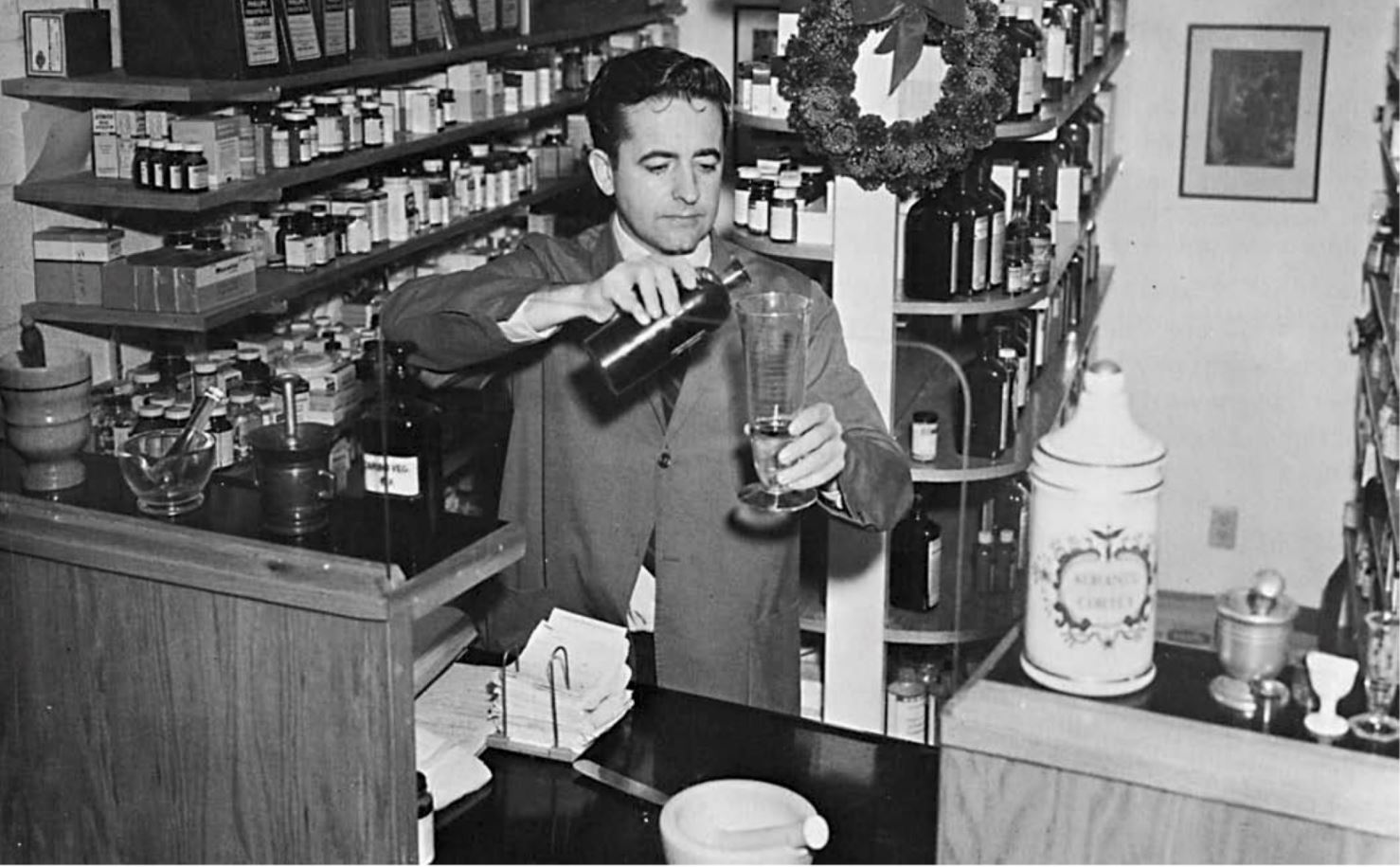 Bill dispensing drugs in the pharmacy.

One of Bill's first ideas was building a cafeteria. However, the space for the cafeteria had a big old cottonwood tree standing right in the middle. "We didn't dare cut it down," says Dorothy. "It was the first tree in Wall, planted in Ought-Six, and for a long time the only tree in Wall." So, they simply wrapped the building around the tree. For years, you could see a huge green cottonwood growing right out of the roof. Its roots extended so far past the building that they didn't even have to water it. Signs on the road said "Eat Under The Tree." Unfortunately, the tree died and had to be cut down in the early 1990's.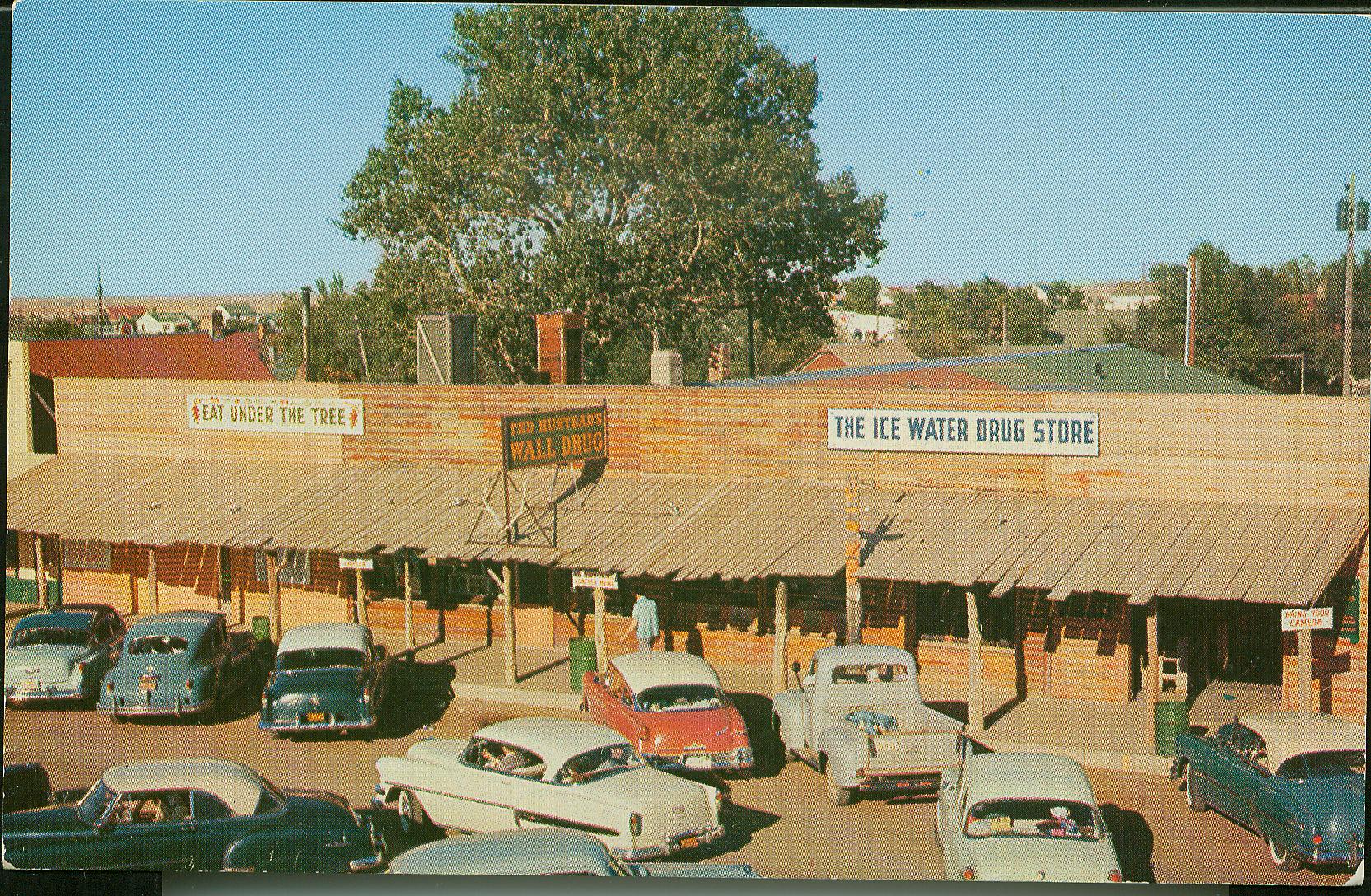 Expanded storefront in the 1950's with the cottonwood tree growing out of the roof.
Now, the Wall Drug Café seats 530 people and contains the Western Art Gallery. With over 300 original paintings, it is one of the largest private collections of original Western Art in the country. Notable artists include NC Wyeth, Harvey Dunn, Dean Cornwell, Benton Clark, Matt Clark, Gutzon Borglum, Oscar Howe, Harold Von Schmidt, Morton Stoops, Will James, and Frank McCarthy.
Bill's next big idea took shape in the mid 1970's. The Western Mall and Frontier Town is constructed of native timber and old brick, and the floor is made of Cheyenne River rock. Laid out to look like the main street of an old west town, this area houses 14 unique stores, including the Wall Drug Pharmacy. The Western Mall also contains a Travelers Chapel patterned after a chapel built by Trappist monks in the 1850's in Dubuque, Iowa.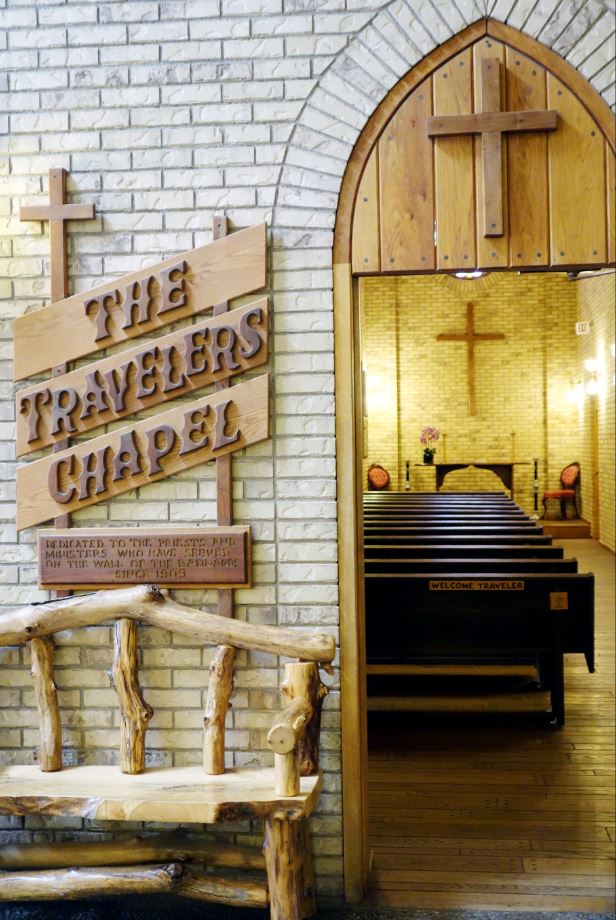 Travelers Chapel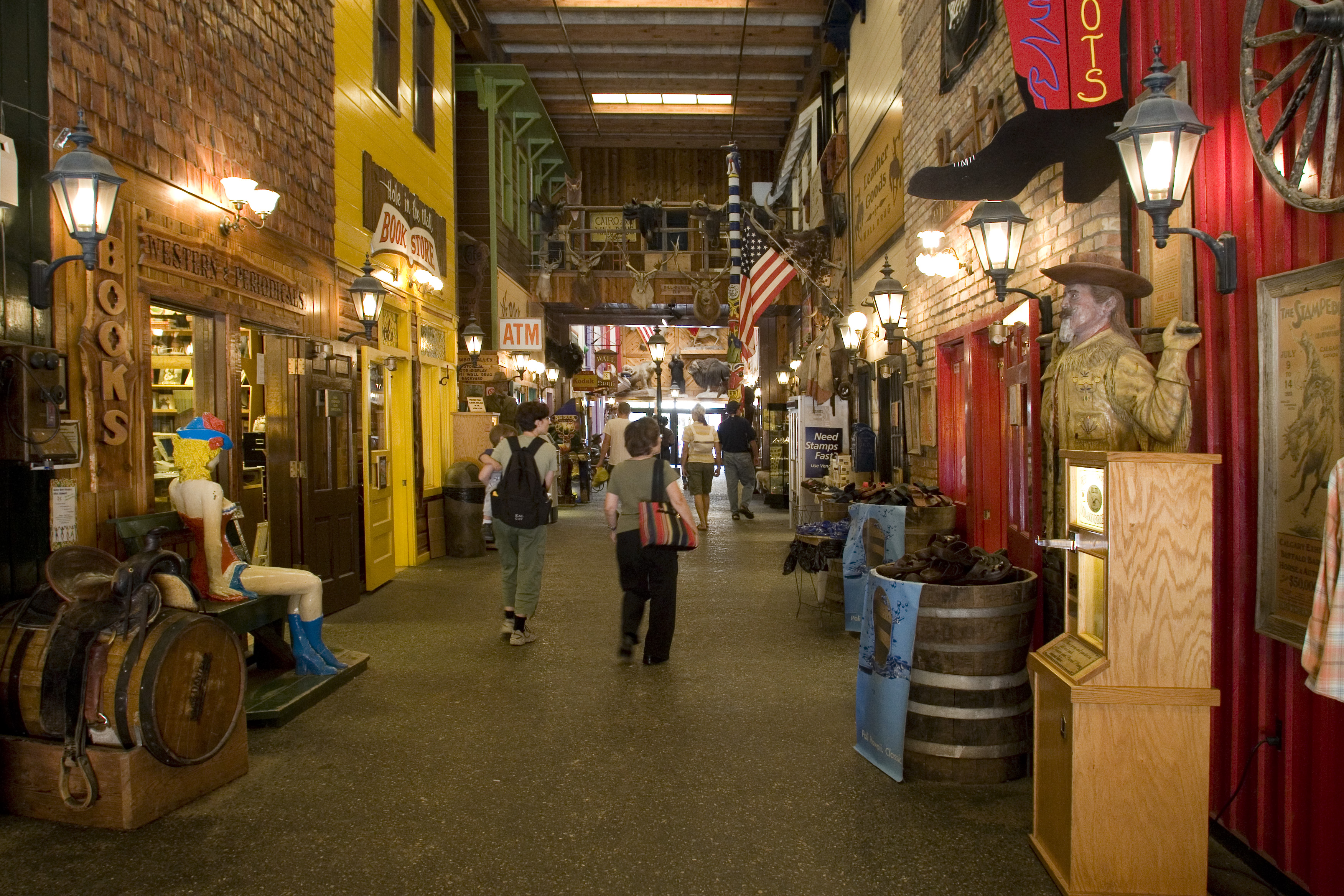 Western Mall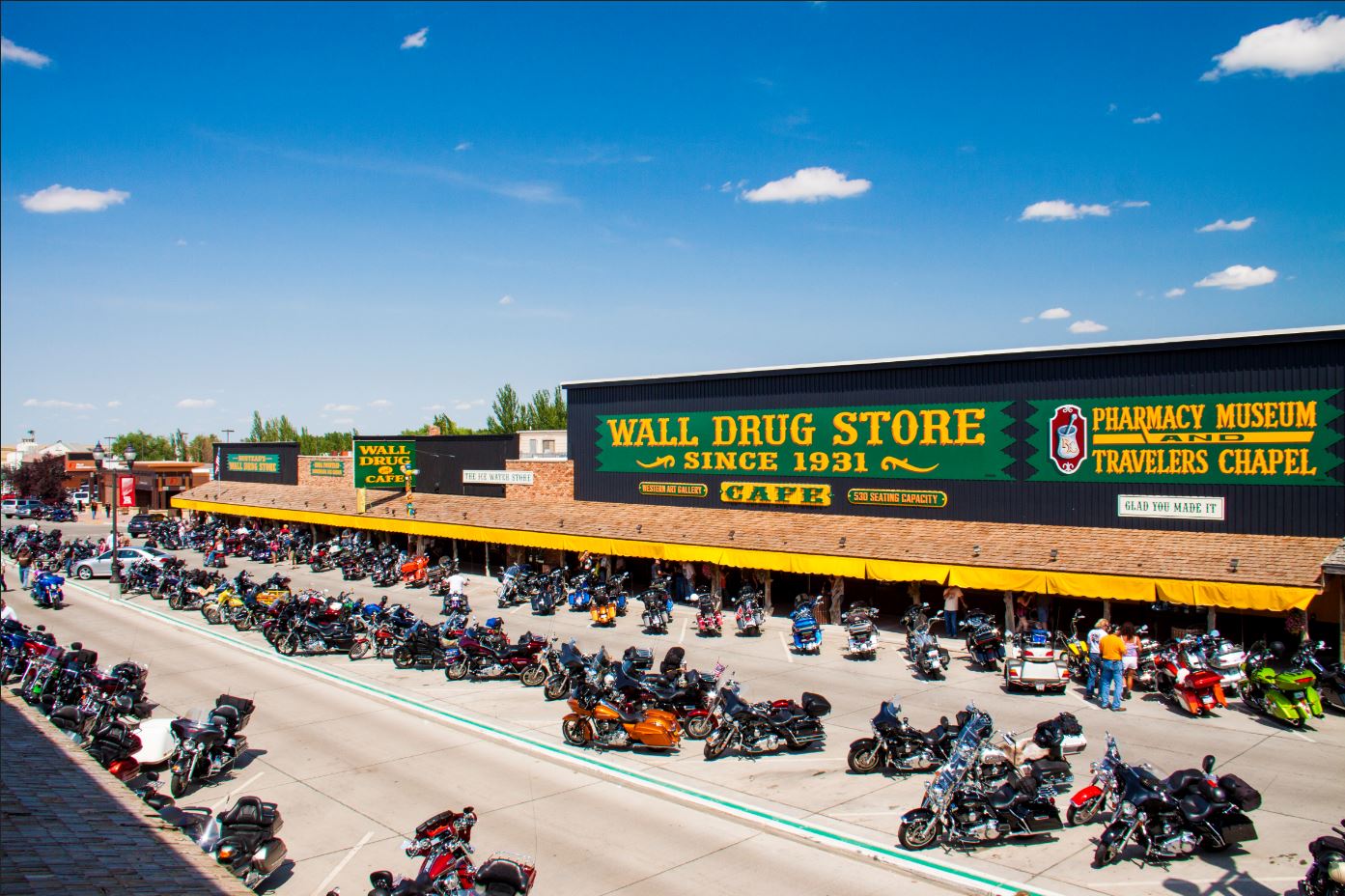 Wall Drug Storefront during Sturgis Bike Week. Photo by Hannah Huether.

Today, Wall Drug Store is run by third and fourth generation Husteads. Rick Hustead, one of Bill's sons, is the Chairman, and Rick's daughter, Sarah, serves as a manager and Vice President. As the store has grown, so has the need for help. Nowadays, Wall Drug depends on nearly 60 full-time employees and over 100 seasonal workers to assist customers and keep the store running smoothly. The friendly customer service that Wall Drug is known for would not be possible without their dedication and hard work.


Three generations of Husteads in the 1980's. Left to right: Rick, Ted, Bill



Rick Hustead and his daughter, Sarah. Photo by Emily Weber, SDSU

The store continues to offer the same amenities that made it a must-stop destination all those years ago, and visitors still stop to stretch their legs, eat a delicious home-style meal and drink some free, rejuvenating ice-cold water. Over 2 million people visit each year, and on a busy summer day there can be as many as 20,000 people coming through the store.
Free Ice Water. This simple but innovative idea has brought the Husteads a long way in the past 90 years. They have discovered that there is no place on God's earth that is Godforsaken. No matter where you live, you can succeed, because wherever you are, you can reach out to other people with something that they need and serve it up with good humor and great service.
Thank you all for allowing us to serve you. It is an honor and we look forward to continuing to serve for many years to come!
---
Last Modified: