How Many Miles to Wall Drug? A guide to must-see attractions near Wall Drug Store
– By Wall Drug Store
If you've ever driven down I-90, there's no question you've seen just a couple billboards for Wall Drug Store along the way (or more than you can count)! Wall, once referred to as the "geographical center of nowhere," is quite literally the epicenter of fun in Western South Dakota.
No matter where your adventures take you, Wall, South Dakota and the surrounding areas are an adventurer's dream, with more opportunities for fun, new experiences, and excitement than you could possibly imagine. With so much to do and, often, limited time to spend in the area, it can become quite overwhelming deciding what to do. So – to save you the hassle of pining over the best places to visit, we've put together our list of the top must-see sites and attractions in the area.
Whether you're coming from the north, east, south, west, or outer space, we've organized our top picks in order from closest to furthest away from Wall Drug Store for your convenience!


Badlands National Park – Only 8 miles to Wall Drug!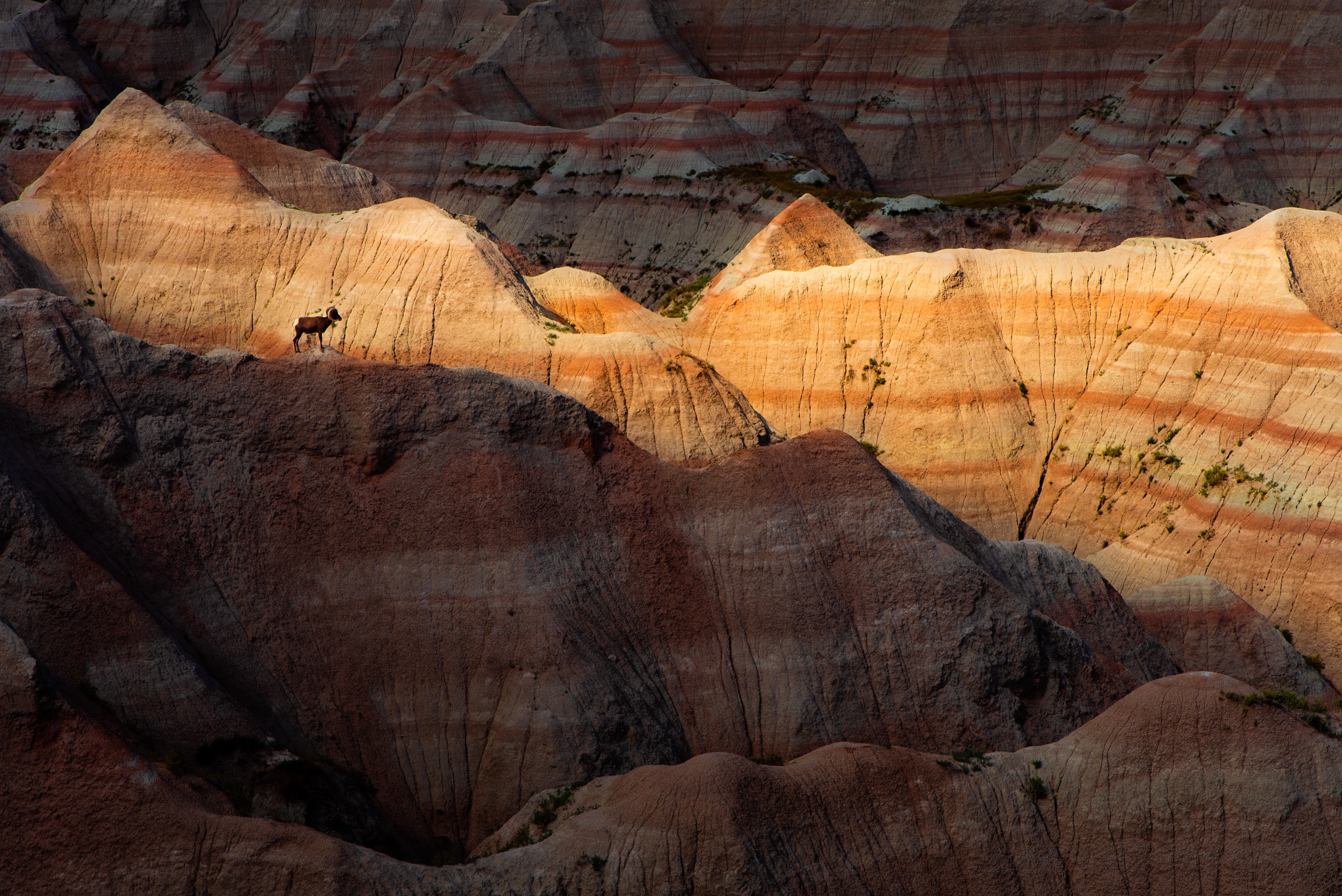 Home to some of the world's richest fossil beds, these geological deposits showcase many interesting native foliage, fauna, and, of course, some of the best views you'll see! Not only one of our favorite local places, but also one of the most-loved National Parks, Badlands National Park needs to be at the top of your list! Right down the street from the Badlands, Wall Drug Store is the perfect stop to cool off with a nice cold glass of ice water—it's free!
Black Hills National Forest – 55 miles to Wall Drug!



On the Western edge of South Dakota and Northeastern Wyoming lay over 1.2 million acres of forested hills and mountains waiting to be explored! See caves, all the foliage and fauna of the area, bird watch, fish, rock climb, stargaze, pan for gold, mountain bike, and much more! There are so many adventures you can have in the Black Hills National Forest, you'll need more than a 5¢ cup of coffee from your stop in Wall Drug to have the energy to experience it all— it's a good thing we're open seven days a week!
Mount Rushmore National Monument – 77 miles to Wall Drug!



It's true what they say about South Dakota—Great Faces, AND Great Places! Mount Rushmore just happens to be a little bit of both these things! 60-foot-high granite carvings of Presidents Washington, Jefferson, Roosevelt and Lincoln can't wait to meet you at this patriotic landmark in the beautiful Black Hills. End the day with a fun outing to Wall Drug where there are plenty of mementos for everyone to remember their day!
Sturgis, SD – 80 miles to Wall Drug!


Located in Western South Dakota, the city of Sturgis was once home to a 19th century military outpost, and the Old Fort Meade Museum documents its unique history. Sturgis is also full of rugged mountains, canyons, and trails if you like to enjoy the outdoors. Of course, we can't talk about Sturgis without mentioning the Sturgis Motorcycle Rally—an annual attraction bringing hundreds of thousands of people from around the world to the Black Hills every August. Whether you visit during rally time or not, Wall Drug Store is a magnet for motorcyclists looking to make fun memories on their vacation to South Dakota. Plus, who doesn't love a hearty meal and free ice water after a long ride?
Custer State Park – 80 miles to Wall Drug!



Cruise the Needles Highway, take a dip at Sylvan Lake, or see some animals native to the area in the Wildlife Loop—maybe you'll even see a jackalope! Not to mention all the amazing fishing, climbing, hiking and delicious food! Much like Wall Drug, you can find a little something for everyone at Custer State Park!
Crazy Horse Memorial – 92 miles to Wall Drug!

The Black Hills have a rich, cultural, heritage and remain home to several reservations. Still in progress, Crazy Horse Memorial is a tribute to Native American warrior Crazy Horse. Enjoy learning Native American history at the Indian Museum of North America, and discover a new appreciation for some of the artifacts, art, and imagery found throughout the region. Can't make it to Crazy Horse Memorial during daylight hours? Come after dark! The Crazy Horse Memorial features a nightly "Legends in Light" laser show that curates images and music into a powerful celebration of cultural diversity.
Deadwood, SD – 93 miles to Wall Drug!
This historic, old-western town will take you back in time! Enjoy museums, casinos and live music along with great food and entertainment around every corner. Much like Wall Drug, there is a little something for everyone in Deadwood! Don't forget to visit Wild Bill and Calamity Jane at Mount Moriah Cemetery while you're there! Ask any of our friendly and knowledgeable Wall Drug Staff what their favorite attractions are. They offer a great local perspective!
An Honorable Mention that's a must-see if you're headed east-bound on I-90 from Wall:
Dignity: Of Earth and Sky – 154 miles to Wall Drug!
Located right on the Missouri River east of Wall Drug along I-90, this 50-foot-high, stainless steel statue was designed by local artist Dale Lamphere to honor the culture of the Lakota people who are such an important part of South Dakota's heritage. With beautiful craftsmanship that can only be fully appreciated in person, Dignity is just one of the many great landmarks that local artists have contributed to the region.
-
No matter where your adventures take you in the Badlands and Black Hills, we wish you the safest of travels and hope you'll stop by and see us when you're in the area! Where else will you find world famous homemade donuts, 5¢ coffee, and free ice water all in one place? The answer is nowhere – so, we can't wait to see you soon!
---
Last Modified: