Wall, SD and Badlands National Park Vacations on a Dime
– By Wall Drug Store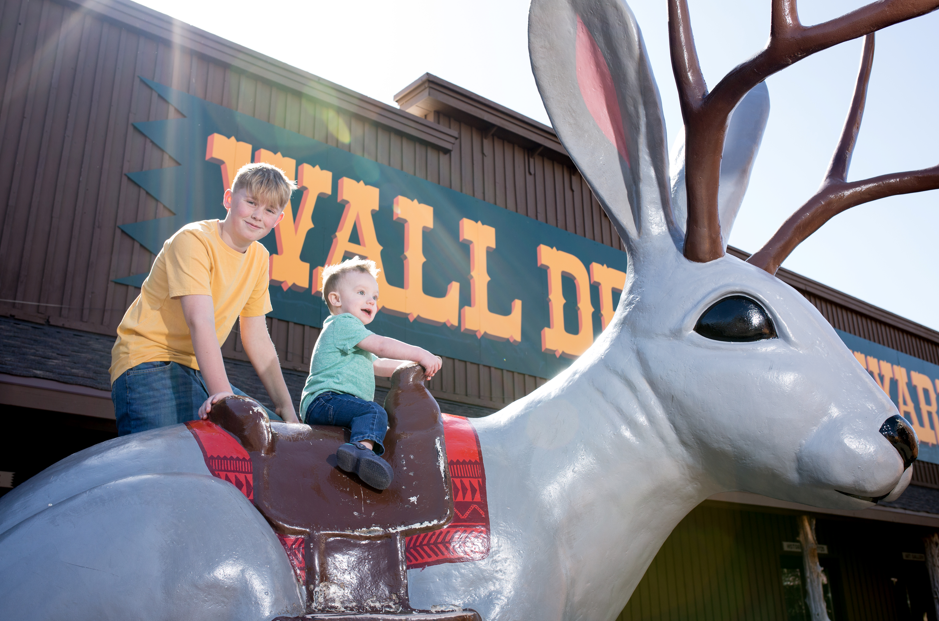 Whether you're planning a staycation or traveling from far and wide to take in the many spectacles and friendly atmosphere that awaits in the Wall, South Dakota/Badlands National Park area, you'll find ample opportunities to see gorgeous places and sights without having to break the bank with your travel companions. Whether you're pitching a tent with some friends or embarking on a cross-country adventure with your family, we're here to shed a light on all of the fabulous, and inexpensive, fun that awaits in our corner of paradise.
Wall Drug Store (in Wall, South Dakota) – This one goes without saying, but you won't find a more all-encompassing, family-friendly experience than at Wall Drug Store. Whether you saw one of our many brilliant signs or heard about our slice of Midwestern heaven from a friend, you'll find affordable entertainment galore here at Wall Drug Store. If you're perusing our Western Art Gallery or spending the afternoon in the Wall Drug Store Backyard, you'll find plenty of inexpensive activities waiting around every corner. In fact, it's completely free to visit Wall Drug Store. While we sell an incredible variety of local art, souvenirs, clothing, books, jewelry, rocks, and more, you'll only ever have to spend as much as you want. Be it buying a souvenir shirt or enjoying some scrumptious homemade donuts with the fam, we've worked hard over the last 90 years to provide an affordable experience for all who come and visit us.
Pitch a tent and take in the beauty of the world around us – Is your travel crew one for up-close experiences with the natural world? You're in luck! Whether you're looking to stay close to the action in Wall or want to experience the Badlands at their best, our area is chalk full of unforgettable camping sites. For those looking to stay in town, check out Sleepy Hollow Campground – otherwise, if you're looking for camping accommodations in the Badlands, head over to the National Park Service's website to find the perfect campsite for you! With minimal light pollution in the area, not only will you feel at ease in a place void of the hecticness of everyday life, but you'll also see the starry skies in a new way. As you drift off to dreamland, you'll have picturesque views of the Milky Way, and so much more, on a clear night.
Enjoy close encounters with wildlife and so much more - As you could probably already imagine, Badlands National Park has served as the home to countless wildlife species over the last several million years. Today, you can see some of these adorable residents up-close and personal with the purchase of a National Park Pass. Here, you'll find familiar furry friends from across the entire food chain. From Bighorn Sheep to buffalo, prairie dogs, gorgeous birds, antelope, and so much more, you'll be mesmerized by the critters you see roaming the sprawling reaches of the beautiful Badlands. Whether you visit for the morning, afternoon, or the entire day – you're certain to see a few of our local animal residents. (Reminder: Please keep a safe distance from all wildlife you see and be sure to not interfere with them.) To learn more about the fauna of Badlands National Park, make sure to visit the Ben Reifel Visitor's Center where you'll find a treasure trove of info about local animals, plants, and landscapes alongside the history of the Badlands.
Pro-Tip: If your travels will be taking you near many National Parks, we highly encourage you to invest in a National Park Pass – which will grant you entry to the vast majority of National Parks across the US. With this pass, you'll be able to trek Badlands National Park and other nearby National Parks like Wind Cave National Park, Devil's Tower, Yellowstone, and so many more!
Hiking and Biking, oh my! - While Badlands National Park is destined to look incredible from your vehicle, imagine how gorgeous it will be when seen from a scenic trail or via bike? Dotted with popular hiking trails like the Window Trail, Notch Trail, Castle Trail, and more, you'll see the Badlands in a new light as you meander the rugged terrain and get up-close-and-personal with millions of years of history. If hiking isn't your thing, consider seeing the Badlands on the wheeled bike of your choice. Whether you travel by way of mountain bike or motorcycle, you can't beat the spectacular 360-degree views of the Badlands. Learn more about hiking trails and biking in the Badlands today!
Dining on a dime is easier than ever – With hometown vibes comes hometown prices. Whether you eat at Wall Drug Store or pack a lunch with food bought at the local grocery store, you'll find superb prices on meals and groceries in the area. The Wall Food Center carries buffalo meat and a selection of local products, so you can enjoy home-cooked meals made with fresh, local provisions every day! In addition, with 5-cent coffee and free ice water at your disposal, dining out on a dime is as easy as ever – especially when you dine at Wall Drug Store!
Free Family Activities and Outdoor Adventure
Looking for more free family-friendly activities in the Wall-Badlands area? You're in luck! With local attractions like the Minuteman Missile Visitor Center and Delta 0-9 Missile Silo, you and your family can relive history, and the days of the Cold War, in an immersive way. At this national historic site, you'll find interactive exhibits and up-close encounters with our nation's past line of defense. Located off of I-90, at Exit 131 as you exit the Badlands, this free attraction, and its companion site, Delta 0-9 Missile Silo at Exit 116, offers a once-in-a-lifetime experience.
Seeing the Badlands and friendly Wall, South Dakota is as easy, and inexpensive as ever – boasting an ever-growing list of affordable activities, camping, dining, and attractions for you to fill up your travel itinerary. We can't wait to see you this summer!


---
Last Modified: